Your computer may need to be rebooted for some important updates to be installed. Failing to restart and / or install these updates can leave your computer and the network of devices that it's connected to open and vulnerable to attacks like ransomware, viruses, data theft and more. Our Enhanced Patch Management system can install updates for more than 300 programs and applications and, if there is a need to restart, will prompt you to restart now (with a 5 minute countdown timer) and give you the option to postpone the restart for 4 or 6 hours or the next time that you log out.
The default is to "Restart Now" with a 5 minute countdown timer. If no action is taken, the computer will restart and the updates will be installed during the restart. Note that some updates may be dependent on other updates to be installed and may require multiple restarts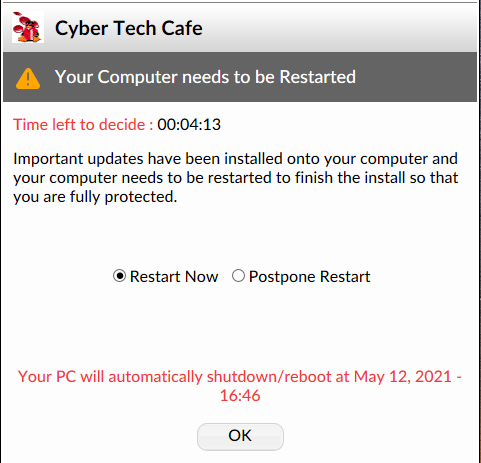 If restarting now is not an option, you can click the Postpone Restart button to postpone the reboot for 4 hours, 6 hours or until the next time that you log out (if you log out earlier than the 4 or 6 hour window). You can also restart anytime prior to the 4 or 6 hour mark to trigger the install. This option allows you to continue working beyond the 5 minute countdown but ensures that the updates are installed to protect your computer in a timely manner.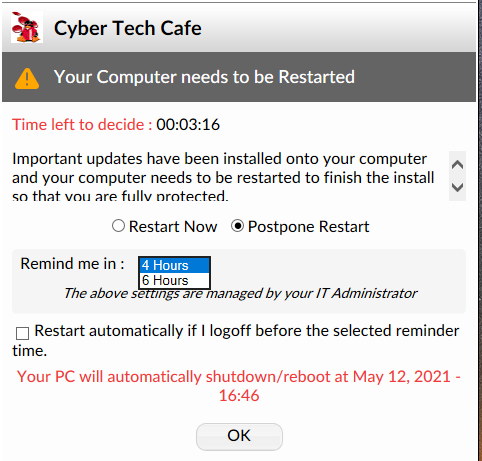 If you have any questions about the Enhanced Patch Management or our MyIT Services in general, you can contact us via email, phone or visit our shop.