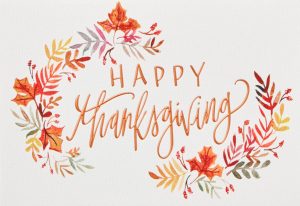 Cyber Tech Cafe would like to wish everyone a Happy Thanksgiving! We will be closed on Thursday, 23 November 2023 and Friday, 24 November 2023 to celebrate the Thanksgiving holiday with family, friends and loved ones. Any non-emergency support requests will be responded to on a first come, first served basis on Monday, 27 November 2023.
Emergency support is available for our commercial and MyIT customer by choosing the emergency support option when via phone or by including the word "Emergency" in the subject. Please note the holiday rate will apply.
From all of us here at Cyber Tech Cafe, we wish you and yours a Happy Thanksgiving!
Nathan and Kristy Underwood